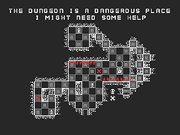 Chesscourt Mission Game Online - Play Free Chess Board Games
Chesscourt Mission is a chess game with unique twist. Your mission is to recue the poor king in this chess game because he is unable to reach the exit door on his own. The piece moves like chess but you need to move and swap it to take control of the other piece. As soon as you move one you will only have to make it perform the standard movement of the game. You will lose the game if you fall into a deadly trap. Swap pieces and move the king to the exit! Enjoy playing Chesscourt Mission chess game with a twist here on our website!
10,930 play times
How to Play Chesscourt Mission Game
Use mouse to move/swap. Z key to undo, and R key to retry.
Can Chess Drive you Crazy?
Yes, according to Magnus Carlsen, the Norwegian chess prodigy, chess can actually drive you crazy if you get to obsessed with the game. In an interview with the German magazine Der Spiegel he stated that there is the danger that you will slide into a parallel world, that you would lose your sense of reality, get lost in the infinite cosmos of the game. You become crazy. Other chess players have previously complained about thinking about chess puzzles prevents them from going to sleep and the insomia makes a person crazy.