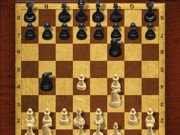 Fun Chess Games Online - Play Free Chess Board Game Online
If you like to shout out "Checkmate!" after winning a hefty punch with strategy games, so try one of our many free online chess game! Our free html5 games are easy to learn and fun to play. You can challenge the computer in a traditional online game, or try your hand at one of our puzzle varieties. Choose your ideal set of pieces, select a color and devise a strategy! True masters such as Garry Kasparov and Magnus Carlsen spends hours on improving their skills. Our various levels plays realistic and holds smart artificial intelligence, which will react to the gameplay and give you a unique challenge. Our online game collection can also accommodate beginners and thus offers simpler and easier game-play variations.
Many different graphic styles are included
Many different graphic styles are included in our online games. If you prefer basic 2D graphics, you can play with the standard board game, seen from above. Alternatively, you can move runners, horses and towers in stunning 3D. Our Flash based games offers vivid colors and stunning graphics. Enjoy smooth gameplay and quick artificial intelligence, and you can even play multiple games at once!
Why not Play a Fun Chess Board Game Online Today
Embracing online chess is an invitation to step into the world of intellectual exploration and strategic brilliance. Chess is not just a game; it's an art form, a mental challenge that pushes your analytical abilities to their limits. Playing online grants you access to a global community of enthusiasts, providing endless opportunities to test your skills against players of varying expertise. It's a timeless endeavor that transcends boundaries, connecting people from different cultures and backgrounds through a common love for the game. Additionally, the convenience of online chess means you can engage in stimulating matches at any time, from anywhere. So, whether you're an aspiring grandmaster or a casual player, immersing yourself in an online chess board game today is an opportunity to sharpen your intellect, forge international connections, and enjoy the profound satisfaction of strategic triumph.
The greatest Chess players throughout the history
There is no doubt that throughout the history there have been many superb players who have reshaped and redefined the way the game is played. This list is an attempt to examine and categorize the greatest of those. No doubt there are many worthy names that could be added, but lets just focus on a few. Emanuel Lasker, Germany (1868-1941) dominated this world and spent an incredible 27 years as World Champion, the longest ever. He contributed greatly to this game becoming a professional career by demanding high fees for his appearances. Bobby Fischer, USA (1943-2008): Another player who has claims to the greatest of all time, Bobby Fischer's worst opponent was usually himself. Beginning at age 14, Fischer won 8 US Championships, including the 1963-64 Tournament 11-0, the only perfect score in its history. By 15, he was the youngest ever Grandmaster (GM) and the youngest ever candidate for the World Championship. Garry Kasparov, Russia (1963-): No other player has dominated as long or as strong as Garry Kasparov. He became the youngest ever undisputed World Champion in 1985 at only 22.