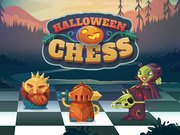 Halloween Chess Game Online - Play Free Chess Board Games
Halloween is upon us. If you enjoy chess, you'll enjoy this brand new Halloween version for the holidays. Nothing like a classic, spooky chess where each piece is crafted with the intention to scare. Features 3 different scary themes. Choose between easy, moderate and hard computer AI. You can play as white or black in this two (2) player game. Hints system to guide your moves. Yes, pumpkin included. Enjoy a fun casual theme, suitable for all ages.
11,173 play times
How to Play Halloween Chess Game
Use your mouse on PC or your finger / stylus pen on touch screen devices such as smart phones, tablets, and certain computers with touch screen capabilities.
What is Halloween
Halloween is also known as All Hallows' Eve, it is a yearly celebration observed in a great number of countries on October 31, the eve of the Western Christian feast of All Saints and the day initiating the triduum of Hallowmas. According to many scholars, All Halloween is a Christianised feast originally influenced by western European harvest festivals, and festivals of the dead with possible pagan roots, particularly the Celtic Samhain. Other scholars maintain that it originated independently of Samhain and has solely Christian roots. Typical festive Halloween activities include trick-or-treating, attending costume parties, carving pumpkins into jack-o-lanterns, lighting bonfires, apple bobbing, visiting haunted attractions, playing pranks, telling scary stories, and watching horror films.