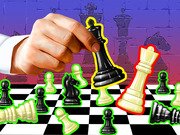 Real Chess Online Game Online - Play Free Chess Board Games
Get ready for a one of a kind chess game. Practice with an AI or play with your friends. Show off your skills and develop your intelligence while having so much fun.
12,286 play times
How to Play Real Chess Online Game
Mouse and touch. Tap to move on chess board. You can either have 1 Player or 2 Players. You can also decide on the name that you would like to use as you play the game. Choose from more than 200 flags. There are 3 colors of pieces, 2 Board variants, 3 Board styles, and 2 variants of pieces. In 1 Player, you can adjust the difficulty level. Once you are in the game, you can either choose 2D or 3D. For 2 Players you can set the time per move, increments, and total time per player.