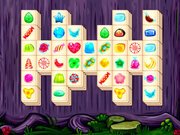 Candy Mahjong Game Online - Play Free Mahjong Board Games
Collapse the blocks by clicking groups of horizontally or vertically connected same-color blocks. On each collapse you will obtain a score. The bigger the group you collapse, the higher a score you will get. The status at the bottom will show you the projected score for any selected group. You can apply logic to create bigger groups. Your progress will be saved. So feel free to play it again and again to obtain a higher score. Don't let the board fill from blocks to keep game going. Candy Mahjong is a fun game for keeping you busy when you have too much time on your hands. So, eat some candy and have some fun!
12,862 play times
How to Play Candy Mahjong Game
Use mouse or touch pad to play this game.
Mahjong will never cease to Amaze
Mahjong will never cease to amaze, as newer versions come up with new rules. Traditionally mahjong was created as a game where tiles with at least 2 sides free could be removed. Today, they say only one side need to be free for the tile to be removed. This meant that tiles in the middle of a trip could not be removed even since they only had one side free; the only tiles that could be removed in such a column were the two at each end, and one would work his or her way inward from the ends. After that came the mahjong that does not use traditional symbols. Then came the issue of seasonal tiles and after that the tiles that were opposite and complimentary. Now you have come across a mahjong game in which you have to work with the numbers to add them up to the required total. It does not matter how many tiles that you use, as long as you make the total. Even as you play this game, you can go through the various types of mahjong that you have seen today and be amazed. This is also an amazing concept too, and you are yet to see more.