Mahjong Cube Dimensions Game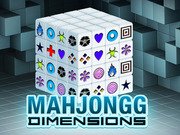 Mahjong Cube Dimensions Game Online - Play Free Mahjong Board Games
Tired of the typical 2D matching game? Mahjong Dimensions literally adds a dimension of fun to your match-making experience. Mahjong Dimensions is a free online mahjong game that doe not use tiles like most other games do. It is a qwv game where you use cubes that have various symbols most of them being non-traditional. In the game, you are supposed to match two cubes that have the same symbols and do not have other cubes covering them from the top. Unlike mahjong games that use tiles, and require that the two tiles have one of their sides free, the cube mahjong requires that the top be free; this means that you can removed tiles which have been locked in by other tiles as long as you can see their tops. Free mahjong game that use cubes have become very popular since they are easy to go through. If you want a game where you do not have to strain very much, then these are the games that you should play. See how far and how fast you can go and have a lot of fun while you are at it; you will never want to play any other type of game. Have fun!
16,635 play times
How to Play Mahjong Cube Dimensions Game
Use mouse or touch pad to play this fun game.
Mahjong is the most popular table game in Japan
Mahjong has truly come a long way, and today it is said to be the most popular table game in Japan. There are several governing bodies all over the world and these serve the purpose of making sure that the game is standardized in their regions for fair play. In Japan, there are so many parlors where the game is played that it is said that 300 billion Yen went into the game. This has largely been due to the efforts of many devotees, who have rallied and made the game become popular once again; they refused to give up the fact that the game would fade into nothingness, given how enjoyable it is and the heritage that it bears. In China, the game still has a great following and some of the songs made there have got mahjong as the theme. There have also been several movies which have included scenes where people are playing mahjong. The table version is different from the solitaire version; the latter being more simple to understand and play. Play this free online mahjong game and feel the power of the game. See how interesting and captivating it is; you will hardly notice the minutes slip by.