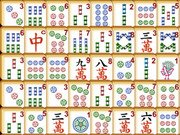 Mahjong Link Game Online - Play Free Mahjong Board Games
In Mahjong Link you must match two identical Mahjong blocks. A block has to be free on at least one side. It's a very relaxing and simple game to play. Each mahjong tile in this link game is numbered to identify the tiles more easily.
20,504 play times
How to Play Mahjong Link Game
Use mouse or touch the screen. Click on two equal tiles.
People keep coming back to play more Mahjong
For many mahjong players, using different kinds of tiles is usually a welcome deviation from the norm. Mahjong games vary quite a lot all over the world. The one thing that they have tried to maintain is the rectangular tiles and also the symbols on the faces. The free online mahjong games have come up with a lot of variations in an effort to rope in more players. There are games that use crates and others that behave like a bejeweled game. However, using hexagons is a new thing and the fact that so many sides have to be free in order to remove them makes it more of a challenge. Playing this game is an experience unto itself because you clear the board so effortlessly that you are tempted to go for more levels, ultimately in the hope of getting a level that will prove to be a great challenge to you. When you have played to the last level, you can post your scores so that other players can see how well you have done. Looking at the high scores you can see that some of the players keep coming back to this game because it is that great.