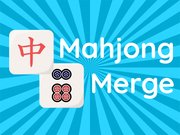 Mahjong Merge Game Online - Play Free Fun Mahjong Board Games
Relax and stretch your mind in this merge puzzle. A unique mechanism that is easy to learn but difficult to master. All levels are handcrafted to test your brainpower. You get to earn and use boosters to solve tricky levels. Have fun!
12,127 play times
How to Play Mahjong Merge Game
Click or Tap and follow the in-game instructions.
Fun Mahjong Facts
There are many fun facts about Mahjong. Mahjong is one of the best strategy games of all time. The game originated in China, but, is now enjoyed all over the world. The goal of Mahjong is to eliminate all of the tiles from the board by finding their pairs. Not only is it fun to play Mahjong, but, it is also great for your brain. Studies by doctors have also shown in Hong Kong that the game is beneficial for individuals suffering from dementia or cognitive memory difficulties, leading to the development of mahjong therapy. It is a classic Chinese board game discovered by the world in 1920, fast becoming one of the most played puzzles ever.