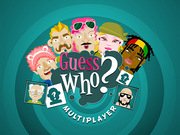 Guess Who Html5 Game - Play Free Board Games Online
Guess Who Multiplayer brings to life the classic board game that everyone loves! Each player has a character and the opposing player must guess who they are. You must use a variety of different questions and you must answer truthfully. Try to use the best questions possible that will narrow down the players quickly. Ask questions such as what color is their hair, or do they wear glasses. You can play against other players from around the world or an AI opponent. This game offers great excitement and really does pay tribute to the classic board game of guess who!
10,779 play times
How to Play Guess Who Game
Use your mouse or touch the screen on touch devices.
Why You Should Play Guess Who - The Guessing Board Game
Whether via a game board with dice, a deck of cards, simple lines drawn on scrap paper, or electronic media, gaming is a global pastime that has enriched culture for millennia. Guess Who game is a two-player kid guessing game. According to the game manufacturers, any kids of six years or above can play this game and improve their guessing skills. The game's main objective is to guess the mystery character of your opponent before he or she guesses yours. It is an easy game to set up and play. To finish a game, it takes less than 10 minutes. Playing Guess Who games will help with improving thinking power and guess about different things. Game is a great indoor activity for kids ages 6 and up.