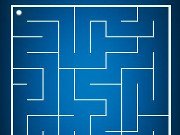 Maze Html5 Game - Play Free Board Games Online
Maze is a HTML Logic Game. Find the exit of the maze in the shortest time you can. You can select between three difficulty levels. Select one of three modes that fits your preferences: classic mode with increasingly difficult mazes, dark mode where you only have a limited field of vision and timed mode where you have to beat the maze as fast as you can. Try not to get lost and complete all levels!
11,066 play times
How to Play Maze Game
Use your mouse or touch the screen on appropriate smart devices. Swipe to change directions and guide the dot through the labyrinth.
Kids Love to Figure Out a Maze
Children are drawn to mazes like adventurers on a quest, and the reasons behind this fascination are plentiful. Mazes offer a thrilling combination of challenge and excitement. As kids navigate the labyrinthine paths, they embark on a journey of problem-solving and critical thinking, honing their spatial awareness and decision-making skills. The promise of reaching the elusive finish line fuels their determination, instilling a sense of achievement when they finally conquer the puzzle. Mazes also spark creativity as youngsters imagine themselves in various scenarios, from daring adventures to daring escapes. Additionally, the sense of independence and control over their choices within the maze empowers them, boosting their self-confidence. Ultimately, the sense of discovery, adventure, and accomplishment that comes with solving a maze makes it an irresistible and endlessly engaging activity for kids of all ages.