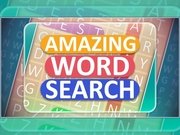 Amazing Word Search Game Online - Play Free Fun Word Web Games
Amazing Word Search is a classic easy to play word search game for everyone. Find all the words before time runs out. Remember that the words can run horizontally, vertically, diagonally, and even backwords. Get points for the words your discover. If you find a word on the list then that word will remain circles and the word will be crossed off the list. It takes a keen eye to find them all. Have fun!
14,097 play times
How to Play Amazing Word Search Game
Use your touch-pad or your mouse, left click and drag to select word. Find all the horizontal, vertical or diagonal words in this free game before time runs out.
Word Search is considered a great brain exercise
Eventhough there are no research that supports the use of word searches with students as a means to student achievement. Word Search is considered a great brain exercise. Sometimes kindergarten and 1st grade teachers use word searches as a way to reinforce vocabulary students are learning through reading. These teachers work with pre-schoolers and first graders, so as they search the words, they learn to look for consonant clusters, vowel combinations and the like. These types of word puzzles help them to develop their visual acuity for recognizing English words. hey love the word searches, and even those kids who struggle with language and/or reading love to do them and feel as if they've accomplished something great when they're finished. They like to compete with one another and are excited about working with words.