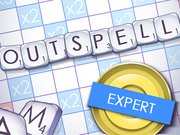 Outspell Game Online - Play Free Fun Word Web Games
Improve your spelling skills with the Outspell game. Scrabble players love this free online word game, with fun twists on the classic. Letters played on bonus squares keep their value, every time you use them. Play at your own speed on levels from easy to expert. Convert blanks to either valuable or versatile letters and don't forget to make those triple word scores count. Have fun!
14,571 play times
How to Play Outspell Game
Use your mouse to play the game or tap on the screen.
Why Spelling is Fun and Important
Spelling is especially fun when you start getting better at it, also if you are doing spelling through an online game it will be more fun and engaging. Learning to spell is important because having the ability to spell correctly adds so much to ones life, especially when it comes to entering the jobs market for the first time where completing application forms correctly, and writing decent resumes is so vital in the effort to make a good impression. Young people need to be able to read, and write to a reasonable standard, and that usually involves having pretty decent spelling skills. Reading, writing, and spelling are important in the first place because it all helps children to develop good levels of literacy.