Word Search Countries Game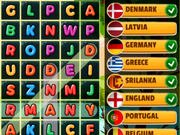 Word Search Countries Game Online - Play Free Fun Word Web Games
Find the word in straight line of blocks (Horizontally, vertically or diagonally with any direction), press the block showing the first alphabet and move till you come to the last alphabet of the word. Find all the words displayed in left panel to complete a level. Complete all levels to win this game.
11,018 play times
How to Play Word Search Countries Game
Use mouse or touch pad to play this game.
How many Countries are there in this World
There are 195 countries in the world today. This total comprises 193 countries that are member states of the United Nations and 2 countries that are non-member observer states: the Holy See and the State of Palestine. Where are these countries located. Well, 54 countries are in Africa, 48 in Asia, 44 in Europe, 33 in Latin America and the Caribbean, 14 in Oceania and 2 in Northern America. Not included in this total count of 195 countries are Taiwan, The Cook Islands and Niue.
What is a Word Search Puzzle
A word search, word find, word seek, word sleuth or mystery words puzzle is a hidden words game that consists of the letters of words placed in a grid, which usually has a rectangular or square shape. The objective of this puzzle is to find and mark all the words hidden inside the box.