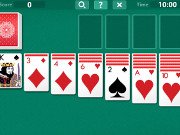 Klondike Solitaire Game Online - Play Free Card Web Games
Play free online Klondike Solitaire, also known as the world's favorite card game. You'll love testing yourself in this rewarding game of skill and concentration.
22,616 play times
How to Play Klondike Solitaire Game
Use your mouse or tap the screen on touchscreen systems.
Fun Solitaire Facts for Kids
There are many fun facts about Solitaire. Patience, or solitaire as it is known in the US and Canada, is a genre of card games that can be played by a single player. Patience games can also be played in a head-to-head fashion with the winner selected by a scoring scheme. In the US, the term solitaire is often used specifically to refer to solitaire with cards, while in other countries solitaire specifically refers to peg solitaire. Both Solitaire and Patience are sometimes used to refer specifically to the Klondike form of Patience. The purpose of patience generally involves manipulating a layout of cards with a goal of sorting them in some manner. It is possible to play the same games competitively (often a head to head race) and cooperatively. The game is most likely German or Scandinavian in origin. There is a vast array of variations on the patience theme, using either one or more decks of cards, with rules of varying complexity and skill levels.