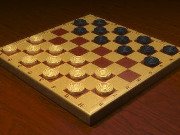 Master Checkers Game Online - Play Free Fun Checkers Board Games
A classic game of checkers online, can you out win over this skilled computer player? Master Checkers is an online html5 simulator of the classic Checkers Board Game. The aim of the web game is to capture all of your opponents pieces, or block them so that they cannot move. You are playing against the Computer. Each player begins the game with 12 colored discs. Have Fun!
11,750 play times
How to Play Master Checkers Game
Use the left mouse button to select the checker piece and to make a move.
The Double Corner Master Opening
The Double Corner Master Opening has become popular in important matches. When playing with the Red pieces, confine your opponent to a line of attack that you are familiar with. When playing the White pieces, confine your opponent to a line of defense you are familiar with in the attack which Red elects to play. Here is a nice video showing how it is done: