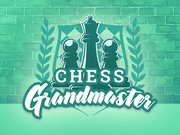 Chess Grandmaster Game Online - Play Free Chess Board Games
Calling all brainiac gamers and aspiring chess masters! Say hello to your ultimate travel companion, Chess Grandmaster, the game that's about to turn your journey into a thrilling mental adventure. Immerse yourself in the world of chess with not one, but two electrifying game modes. Engage in epic, edge-of-your-seat clashes against a cunning custom AI in classic matches where every move is a chessmaster's dream. And if that's not enough to get your brain buzzing, dive into an arsenal of mind-bending checkmate puzzles, ranging from clever two-move challenges to hair-raising four-move conundrums. With hours of brain-teasing excitement awaiting you, your travels will never be the same again!
10,928 play times
How to Play Chess Grandmaster Game
Use your mouse or finger on touch devices to move your pieces across the board.
The World's Greatest Chess Grandmaster
The world of chess has witnessed the rise of numerous prodigious talents, but when it comes to the title of the world's greatest chess grandmaster, one name that often shines the brightest is Garry Kasparov. Hailing from Azerbaijan, Kasparov is a true titan of the chessboard, known for his unparalleled strategic brilliance, lightning-fast calculations, and an uncanny ability to outwit opponents in the most complex of positions. His reign as the World Chess Champion from 1985 to 2000 is a testament to his dominance, where he faced and defeated a formidable lineup of opponents. Beyond his prowess at the board, Kasparov's charisma and passion for the game have made him a global ambassador for chess, inspiring countless players and fans worldwide. His name is etched in chess history, and his legacy continues to shape the world of chess, making him a true icon and arguably the greatest chess grandmaster to have ever graced the game.