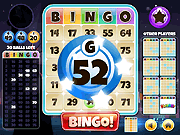 Bingo World Html5 Game - Play Free Board Games Online
Are you a bingo fan? This is a classic bingo game re-imagined for the 21st century. The game is set in different large cities around the world including New York, Paris and Shanghai. Stay patient, mark your numbers and call 'Bingo!' when the right time comes!
11,537 play times
How to Play Bingo World Game
Use your mouse to play this free online game. Use the bingo powerup button to make you 1 step closer to your Bingo moment.
Why Bingo is actually good for you
Bingo has become a popular game and mainstay activity for residential care facilities, community and senior centers, and church groups. Researchers have learned that this game has a lot more value than for just fun and leisure. Cognitive Abilities Are Boosted. Simply put, playing bingo can improve your brain's processing speeds, alertness, and memory capabilities, according to a study. Hand-Eye Coordination Is Improved. As we age, our coordination and reflexes deteriorate, but games like bingo can help the elderly keep their dexterity. Physical Health Is Strengthened. Bingo isn't an aerobic exercise, but it is a social activity. The social aspect of bingo—sharing laughs together, the excitement of possibly winning a game - is what supports physical health in elderly bingo players. Social Participation Is Increased. Older people are more prone to social and emotional loneliness, which has been shown to be a risk factor for reduced activity, physical problems, mental health issues such as depression and anxiety, and even death. Healing from Illness or Surgery Is Sped Up. One surprising research finding is that when seniors played games such as bingo while they recovered from surgery or other illnesses, hospital stays were shortened and healing times were faster.