Eliza the Queen of Chess Game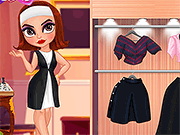 Eliza the Queen of Chess Game - Play Free Board Games Online
Eliza has an extraordinary gift. She plays chess with genius and takes first place in numerous tournaments. At the same time, Eliza remains a stylish young girl. Choose a dress or suit for a young chess player, or, maybe, you prefer a skirt and a blouse? Don't forget the elegant accessories. Forward to new victories together with Eliza - the Queen of Chess!
11,764 play times
How to Play Eliza the Queen of Chess Game
Left mouse button or touch.
The Queen Chess Piece
The Queen is the most powerful piece in the game of chess, able to move any number of squares vertically, horizontally, or diagonally. Each player starts the game with one queen, placed in the middle of the first rank next to the king. Because of the value of a queen, it is sometimes used as bait to lure an opponent into a trap by a queen sacrifice, as in a Fool's mate. Another tactic is to use the queen to threaten the opponent's queen, to either retreat or make a queen trade (losing both of them) to reduce the game to less-powerful pieces. The queen is often used in conjunction with another piece, such as teamed with a bishop or rook, where the pieces could guard each other while threatening the opponent pieces.